Organisations
There is a wide and varied array of organisations affiliated with St. Nicholas' Church, catering for all age groups. If you are interested in joining a particular organisation then feel free to contact the person responsible using the relevant email address below.
For general enquries, contact us on info@stnicholas.ie.
---
Mothers' Union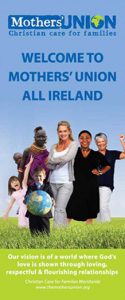 The Parish has an active branch of the Mothers' Union. Meetings are held once a month and are listed on the church notice-board and in the Events section of this website. Sally Cunningham is Chairperson of the Branch . If you would like more information about our branch please contact: mothersunion@stnicholas.ie or phone Sally at +353 (0)87 779 1227. New members are always welcome.
For information on the Mothers' Union in Ireland please see www.mothersunion.ie
---
Sunday Club
The Sunday Club meets during the 11am service on Sundays during the school term. There are no meetings on Bank Holiday weekends and during school holidays.
All young people of primary school age are most welcome to attend.
Contact: info@stnicholas.ie
---
Uniformed Organisations
Ladybirds, Brownies and Girl Guides, meet weekly in the Parochial Hall.
For more information on their programme please see www.irishgirlguides.ie
For local information contact: info@stnicholas.ie